Maggie Q Birthday: From Live Free or Die Hard to Mission Impossible 3 – Here's Looking At the Actress' Best Films
Maggie Q Birthday (Photo Credits: File Image)
Maggie Q went on to become one of the biggest TV stars with her stint on Nikita. The Hawaii-born actress also went on to star in some big Hollywood films such as Die Hard and Mission Impossible. Maggie also successfully bagged the dystopian science-fiction franchise which started with Divergent (2014) and later released sequels, Insurgent (2015) and Allegiant (2016). Q began modelling in Tokyo, Japan, at the age of 17. She started acting in Hong Kong, where she started going by the stage name "Maggie Q" instead of her real name Maggie Quigley.
Maggie later started her acting career on-screen with the TV drama, House of the Dragon, which was a huge hit in Asia. Q made her film debut as Anna in the horror film, Model from Hell, and later went on to star as FBI agent, Jane Quigley in the action thriller Gen-Y Cops. Maggie Q celebrates her birthday on May 22 and as she turns 40, we look at some of her best Hollywood films.
1. Live Free or Die Hard
In this fourth instalment of the Die Hard franchise starring Bruce Willis, Maggie Q was seen in the role of Mai Linh whose action bits surely left us impressed as hell. Who can forget her how she kicks John McClane's ass in this film.
2. Mission: Impossible III
Q managed to once again show us that she's not all sugar and spice and all nice with her character Zhen, a Chinese national who may or may not have vital intel for Hunt to work from and we bet there couldn't have been a better fit for this role.
3. Divergent
In the first film that further went onto become a dystopian, science-fiction franchise, Maggie played Tori, the fearless leader who tests Shailene Woodley's Tris for the divergent gene which meant a personality without virtue. Q was exceptional not only in this film but the sequels too.
4. Operation Endgame
Starring Rob Corddry, Zach Galifianakis, Bob Odenkirk, Adam Scott, this action satire is a definite must-watch. Q plays the High Priestess in this hilarious film. The film follows governmental spy factions who battle with one another in a subterranean warehouse.
We bet these famous films starring Maggie Q have already been watched by you and if not, we bet there are on your watchlist already. We hope Q continues to do more such fabulous work in future.
Michael B Jordan Urges Hollywood Studios to 'Use Their Power to Demand Diversity' At Black Lives Matter Protest in LA (Watch Videos)
Michael B Jordan (Photo Credits: Twitter)
Cities across US are currently holding protests against police brutality in response to the death of George Floyd, a Minnesota man who was killed by the Minneapolis Police Department in May. Several celebrities have also taken to the streets to stand up against systematic racism. Actors such as Jamie Foxx, John Boyega have been at the forefront of some of these protest. Recently, Michael B Jordan whilst attending a protest at Beverly Hills, delivered a fiery speech as he spoke about how he uses his power to demand diversity. John Boyega Delivers a Fiery Speech at London Protest Over George Floyd's Killing (Watch Video).
A few videos of Michael B Jordan's talk at one of the protests is now going viral as his fans are hailing him for making some pertinent points, mainly about Hollywood studios to invest in black people. In his speech, he says, "If you have racist beliefs, if you have a racist bone in your body, if you're not with me if you don't stand with me and people that look like me, you don't need to be with me. I use my power to demand diversity but it's time that studios and agencies… do so."
Check Out Michael B Jordan's Speech at a Protest:
#MichaelBJordan #MichaelJordan calling for brands and people of Hollywood to stop funding #Police and only use Private Security and more‼️🗣 #BlackLivesMatter pic.twitter.com/53E7mI49ob

— ✨EuphoricVitality✨✍🏽 (@ToniiLove1) June 7, 2020
Here's Another Video of Michael B Jordan at the Protest:
#MichaelBJordan 's biggest roles were not by accident. ✊🏽✊🏿✊🏼 pic.twitter.com/l6sGnkCE8Z

— Ashlee With 2 E's 🎙 (@ashleeonair) June 7, 2020
The actor also further made crowds cheer as he said, "What we are doing today will make our values heard and our voices heard. We've got to keep agitating things. We can't be complacent. We can't let this moment just pass us by, we have to continue to put our foot on their necks."Cole Sprouse, John Cusack, Ariana Grande and Other Celebs Who Joined Protests Over the Death Of George Floyd in US.
Jordan also recalled his starring as Oscar Grant in the biographical film Fruitvale Station and what it taught him about the "pain" Grant's family felt when he was killed on New Year's Day in 2009 by a BART Police Officer in Oakland.
Alia Bhatt Is Glowing Golden in Her Latest Sun-Kissed Picture and We Wonder if Beau Ranbir Kapoor Should Be Given the Photo Credits!
Alia Bhatt, Ranbir Kapoor (Photo Credits: Instagram)
Amid the lockdown, Bollywood babe, Alia Bhatt has worn the creative cap and has been stirring magic on her Instagram feed. From reading, writing to baking, the Brahmastra actress is utilising the free time in the best way possible. It's been more than three months, celebs have been practising self-quarantine due to the coronavirus outbreak and Alia happens to be one of them. As she is not shooting and doing interviews, she is making sure to connect with fans via social media. Recently, the actress shared a beautiful picture of herself and we are in awe. The photo sees Bhatt lost in her own thoughts. Alia Bhatt and Ranbir Kapoor's Wedding Functions to Kick-Off On December 21?
Gazing at the sunset as she gets soaked in the same, Alia's latest Instagram post is so satisfying. She captioned the post as, "Suraj Hua Maddham." Indeed we are loving how pleasant the actress looks in the pic and adding to her beauty are the sun rays. However, all that being said, we wonder if beau Ranbir Kapoor should be given the photo credits for the awesome click? All in all, we can say let such cool posts keep on coming. Has Alia Bhatt Already Picked Out a Sabyasachi Lehenga For Her 2020 Wedding With Ranbir Kapoor?
Check Out Alia Bhatt's Sunkissed Picture Below:
Also, not to miss, we loved her Kabhi Khushi Kabhie Gham inspired caption and we know who'll be happy after reading it… ofcourse the answer is Karan Johar. Meanwhile, on the work front, Alia will be next seen opposite Ranbir in Ayan Mukerji's directorial, Brahmastra
. Stay tuned!
Banita Sandhu Is Lush Green Chic in This Throwback Photoshoot!
Banita Sandhu Photoshoot (Photo Credits: Instagram)
This October girl, Banita Sandhu has found a way to regale us with her throwback photoshoot pictures amid the lockdown. The fact that this UK-born millennial is all of 22 but her style game spells easy, chic and cool vibes from the word go! Not the one to dabble richly into all trends, Banita picks and works around a trend that flatters her the most. She teamed up with fashion stylist Meagan Concessio for a photoshoot. Giving the lush hue of green a worthy muse, Banita delighted with her simplicity. An English Literature student, Banita gave us yet another peek into her millennial style basket aided by a petite frame and whiff of confidence in tow.
Here's a closer look at Banita's photoshoot lensed by Aviraj Singh. Banita Sandhu Is the Elegant and Ethereal Neeta Lulla Muse in This Throwback Picture!
Banita Sandhu – A Lush Life
A high neck green coloured dress with a slit on one side, relaxed sleeves was teamed with nude pumps, shoulder-grazing gold-toned earrings, a sleek centre-parted low back ponytail and subtle glam. Banita Sandhu Oozing Oomph in a Blazer Dress, Sleek Hair, Intent Gaze and the Works!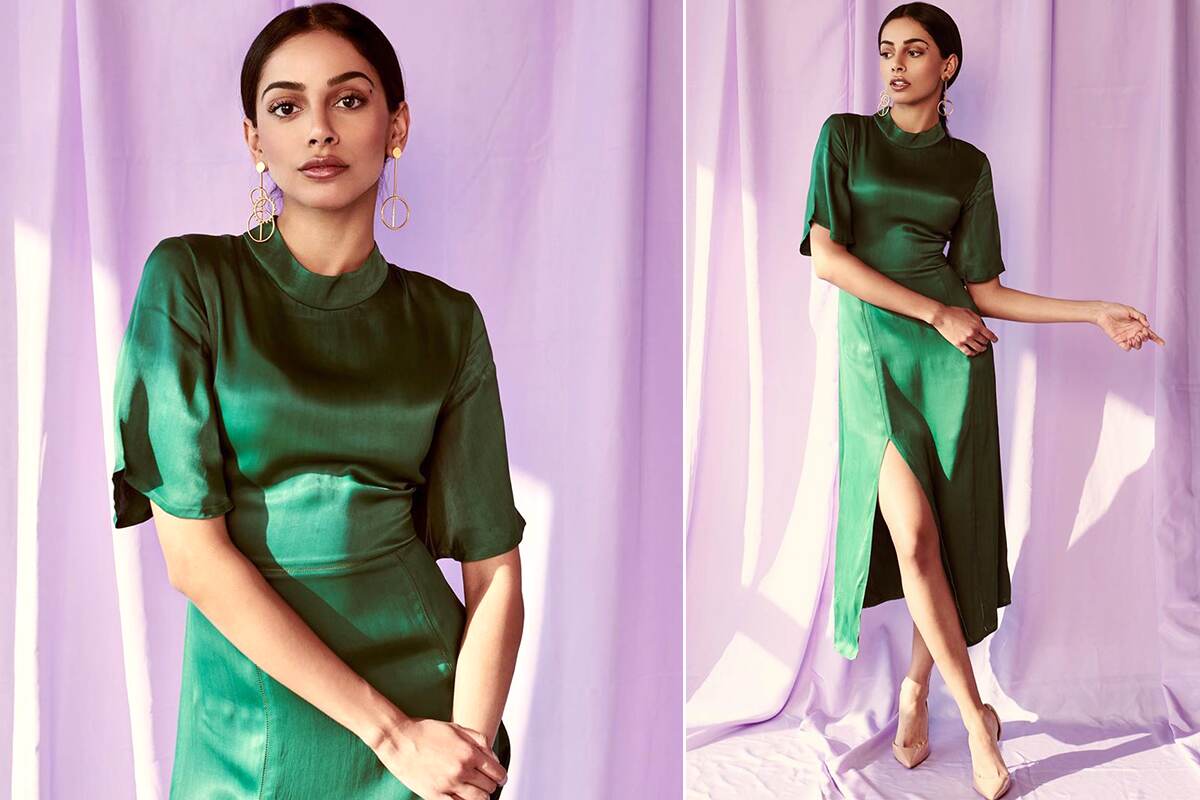 Banita Sandhu Photoshoot (Photo Credits: Instagram)
On the professional front, Banita was last seen in the 2019 Tamil romantic drama film, Adithya Varma with newcomer Dhruv Vikram, a remake of the Telugu film Arjun Reddy (2017). She will be seen in Eternal Beauty, an upcoming drama romance film, written and directed by Craig Roberts. She will also be seen in Sardar Udham Singh
, an upcoming biographical film directed by Shoojit Sircar alongside Vicky Kaushal in the lead role of Udham Singh.