Missouri's Black & Gold spring football game scheduled for Saturday has been closed to the public the school due to "space limitations," the school announced in a press release on Wednesday.
However, a number of other things went into why the team did away with the game and will instead hold a normal indoor practice at the Devine Pavillion that will feature a scrimmage that is still open to parents, former players and media.
"When you look at the calendar and March weather 一 obviously Friday and Saturday are going to be pretty cold," Mizzou head coach Eli Drinkwitz said. "I don't think anybody wants to practice on the Sabbath. So, that was out. You can slide it back a week but we've got spring break next Saturday and I didn't think the fan attendance would be all that good nor did I think our player attendance would be all that good. (Also,) being this close to the game and parents already coming in I didn't feel like it was fair to them (to not be able to attend)."
For the spring game last year, players were drafted to teams but with some minor injuries on the roster, not wanting to push veterans too hard for a spring game and the lack of depth at some positions, the team decided it wasn't going to be the way the team wanted to do it.
"We've only got four offensive tackles that have practiced all spring and I don't think that's a situation where we want Javon Foster taking that many snaps in a spring game, Drinkwitz said. "We have kind of the same thing at several other positions 一 the safety position right now has a couple of injuries that aren't long-term or serious but we're going to keep them out this week. We weren't going to be able to divide up the teams the way that we wanted to in order to create a game-like atmosphere for the fans."
Big concerns remain at center and tight end
All spring the coaching staff has said every position is up for grabs. For positions like quarterback, tight end, center and left guard that may be more truthful than for other positions.
When it comes to tight end and center, in particular, they seem to have more questions than the other positions that are up for grabs.
"Yeah, we've got to improve quite honestly," Drinkwitz said in reference to the center position. We haven't been consistent enough snapping the football (and) weren't consistent enough playing physical behind our pads with the correct pad level."
Not only are some of the fundamentals a problem at center, but Drinkwitz mentioned the players competing for the position (Connor Tollison, Bence Polgar and Drake Heismeyer) need to get bigger to handle the demands of the position. This was something Drinkwitz said about Tollison early on last season.
Tollison is currently listed at 6-foot-4 and 286 pounds, Polgar is listed at 6-foot-2 and 326 pounds while Heismeyer comes in at 6-foot-3 and 302 pounds.
"We've got to get our weight up, play more physically and match the intensity of what it's going to take to play in the SEC, and we don't have that right now," Drinkwitz said.
If Drinkwitz doesn't see the improvement he likes, he said it's possible the team will move someone from another spot to play center.
"So, that's a position that we've got to be open to moving other guys around to see who else can snap because there's an old adage in baseball that I think applies to football, 'you're only as good as you are up the middle,' and you've got to be strong up the middle to be effective," Drinkwitz said. "On offense, that's going to be your center and quarterback and on defense, it's going to be your defensive tackles, middle linebacker and free safety."
However, Drinkwitz didn't mince too many words when it came to the tight ends.
"I think they're trying, but we've got to be more physical at the point of attack," Drinkwitz said. "We've got to be more consistent catching the ball."
The team has four-star signee Brett Norfleet coming in later in the year, but he won't be an option this spring since he's still finishing up high school. If the Tigers aren't content at center or tight end after spring ball they'll likely see what they can get in the transfer portal when it opens May 1-15.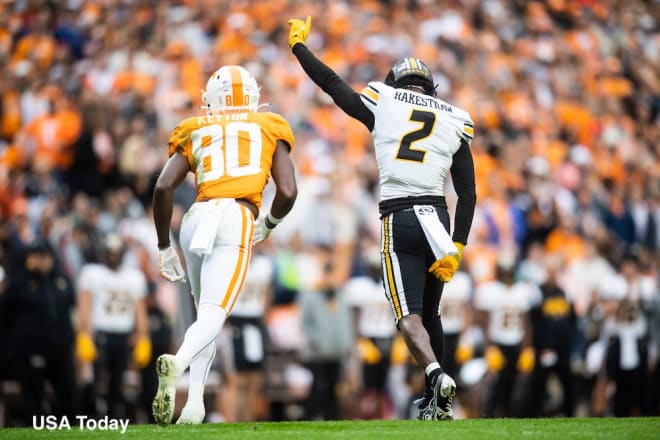 Players who have impressed 
The spring game would've been a great indicator of who could translate their play in practice to live action in front of a crowd. Nonetheless, Drinkwitz still was excited about the spring performances of a number of players, starting with one of his better defensive players.
"Ennis Rakestraw has done a nice job of being focused and you can tell he's determined to accomplish what he wants to accomplish," Drinkwitz said. "He has a lot of attention to detail whether it's in an individual, one on one or perimeter drill."
Rakestraw is looking to build on a 2022 season that saw him rank third in the conference in pass deflections with 12 to go along with 36 tackles, 4.5 tackles for loss, three fumbles and a fumble recovery.
"Jayden Jernigan on the defensive line has continued to change his body in a positive way and be an effective player on the inside and with Darius (Robinson) sliding out to defensive end for most of the spring, he's (Jernigan) taken advantage of his reps and his opportunity to impact the game," Drinkwitz said.
Jernigan is re-joining a defensive tackle room that has its top five players at the position returning in 2023.
"Jaylon Carlies has done a really nice job being intentional in our practices, especially in our tackling drills and our tackling duplication circuits," Drinkwitz said. "I think he's doing a really good job of taking the proper angles having the lead foot up capitalizing on things that he knew he needed to be aware of."
Carlies was second on the team in missed tackles in 2021 with 11 and was third last year with 11, so tackling has been a key focus for him the last couple of seasons.
JUCO first-team All-American linebacker transfer Triston Newson has had an "outstanding spring and has been player of the day multiple times" for both special teams and defense.
Lastly on the defensive side, three-star signee Jahkai Lang has made strides in his brief time at the college level.
"(The) early graduate came in and has even gotten some reps with the first team defensive ends," Drinkwitz said. "So, I'm really impressed with Jahkai and Triston and obviously, they have to continue to get better."
Offensively, Drinkwitz said that wide receiver Mookie Cooper has been the offensive player of the day on multiple occasions while running back Nathaniel Peat seems more comfortable in the scheme and is picking up on the details well. Quarterback Jake Garcia had his best practice on Tuesday after throwing a couple of passing touchdowns in one and two-minute drills while Oklahoma wide receiver transfer Theo Wease has continued to impress.
On special teams, Drinkwitz said that Towson punter transfer Riley Williams has been doing well as he competes with Luke Bauer for the starting punter spot.
Are you a displaced corporate executive or wanting to put your career in your own hands? Or are you an experienced entrepreneur wanting to diversify? Well, Andy Luedecke can help! Andy is a long time business owner, franchise consultant and franchise veteran. Using his expertise, he helps others find franchises that fit their DNA, so to speak. Call Andy, put your life and career in your own hands. His services are 100% free, so what do you have to lose?!! MyPerfectFranchise.net