YouTube star Corey La Barrie dies on 25th birthday after car crash, driver arrested
Corey La Barrie, known for his presence on the video-sharing platform YouTube, has died at the age of 25.
His brother Jarrad confirmed in an Instagram post that La Barrie died in a car accident on Sunday.
The post shared on Monday featured a picture of La Barrie taking a selfie while wearing a lavender hoodie.
"This isn't something i thought i would ever have to sit here and type out for a very long time or what i wanna do right now but everyone deserves to know, my brother Corey passed away last night in a car accident with his drunk friend driving," Jarred wrote in the caption.
"This is the hardest thing I've ever had to do i dont how I'm suppose [sic] to do this without you i miss you so much already this isn't fair," Jarred continued. "Thank you for always being the best big brother i could ask for i love you so f–king much life's never gonna be the same without you R.I.P."
He concluded: "P.S say hi to grandad and grandma for me i love you."
In a press release obtained by Fox News on Monday, the Los Angeles Police Department confirmed that they arrested a suspect, 27-year-old Daniel Silva, the alleged driver of the car, for murder.
According to the release, Silva was allegedly traveling at a high speed when he lost control, "ran off the road and collided with a stop sign and a tree," killing the passenger — the LAPD is withholding the identification pending notification of next of kin — of his car. According to TMZ, La Barrie was the passenger in the car.
"The driver of the Maclaran exited the vehicle and attempted to leave the scene but was stopped by citizens who came to render aid," the statement read. "No other vehicles were involved in the collision."
Per the release, the Los Angeles Fire Department responded to the scene and transported both the driver and the passenger to a local hospital for medical treatment. The passenger "succumbed to his injuries" at the hospital, according to the release.
Jarrad's post on Monday received messages of support from his followers.
"My heart is absolutely broken for you, I'm so so sorry," one person wrote in the comments. "No one should ever have to go through this, thinking of you and your family. Love you, stay strong."
"Sending love and prayers to you and your family," said another. A third added: "Jarrad! I am so sorry for your loss. Prayers for you and your family in this hard time."
In a video shared to La Barrie's YouTube Channel on Saturday, he announced that the following day — May 10 — was his birthday.
Banita Sandhu Is Lush Green Chic in This Throwback Photoshoot!
Banita Sandhu Photoshoot (Photo Credits: Instagram)
This October girl, Banita Sandhu has found a way to regale us with her throwback photoshoot pictures amid the lockdown. The fact that this UK-born millennial is all of 22 but her style game spells easy, chic and cool vibes from the word go! Not the one to dabble richly into all trends, Banita picks and works around a trend that flatters her the most. She teamed up with fashion stylist Meagan Concessio for a photoshoot. Giving the lush hue of green a worthy muse, Banita delighted with her simplicity. An English Literature student, Banita gave us yet another peek into her millennial style basket aided by a petite frame and whiff of confidence in tow.
Here's a closer look at Banita's photoshoot lensed by Aviraj Singh. Banita Sandhu Is the Elegant and Ethereal Neeta Lulla Muse in This Throwback Picture!
Banita Sandhu – A Lush Life
A high neck green coloured dress with a slit on one side, relaxed sleeves was teamed with nude pumps, shoulder-grazing gold-toned earrings, a sleek centre-parted low back ponytail and subtle glam. Banita Sandhu Oozing Oomph in a Blazer Dress, Sleek Hair, Intent Gaze and the Works!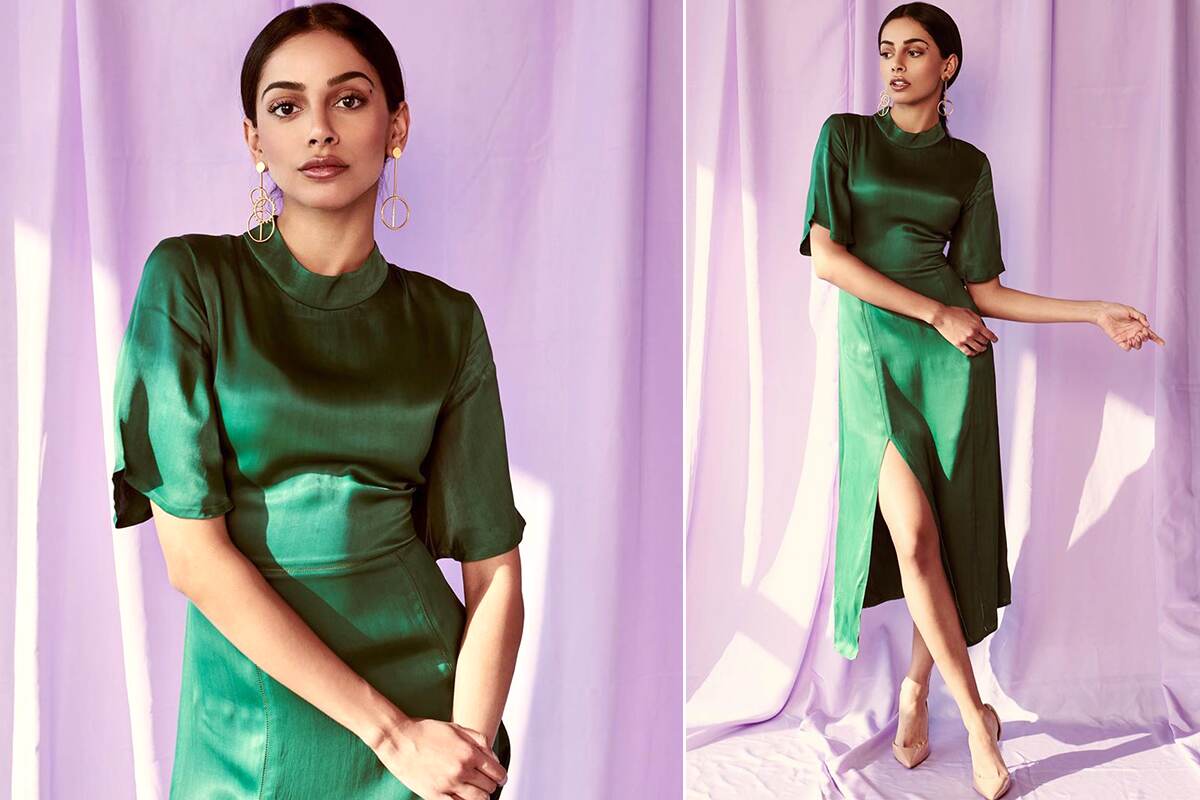 Banita Sandhu Photoshoot (Photo Credits: Instagram)
On the professional front, Banita was last seen in the 2019 Tamil romantic drama film, Adithya Varma with newcomer Dhruv Vikram, a remake of the Telugu film Arjun Reddy (2017). She will be seen in Eternal Beauty, an upcoming drama romance film, written and directed by Craig Roberts. She will also be seen in Sardar Udham Singh
, an upcoming biographical film directed by Shoojit Sircar alongside Vicky Kaushal in the lead role of Udham Singh.
Aparajita Ayodhya: Kangana Ranaut to Direct the Film Based on Ram Mandir Case, Says 'It's a Story of Love, Faith and Unity'
Kangana Ranaut (Photo Credits: Instagram)
Actress-director Kangana Ranaut will helm Aparajita Ayodhya, which revolves around the Ram Mandir case. "The plan wasn't for me to direct the film. I started it as a project that I worked on from the concept level. I wanted to produce it and rope in another director for it. I was quite busy at that time to even think of direction," she said. Kangana Ranaut Rubbishes Rumours of Thalaivi Getting an OTT Release, Says 'Can't Opt Digital Release As Its a Massive Scale Film'.
"However, the script that KV Vijayendra Prasad shared was that of a film set on a large canvas, somewhat on the lines of the historical that I have directed before. My collaborating partners were also keen that I direct it. Eventually, even I felt that maybe it's best if I helm this film. So, it all happened organically," she added.
KV Vijayendra Prasad had scripted Manikarnika: The Queen Of Jhansi, which had launched Kangana as a director. Aparajita Ayodhya will also be produced by her production house. Kangana Ranaut Slams B-town Celebs for Supporting #BlackLivesMatter Movement, Questions Their Silence on Sadhu Lynching in Maharashtra.
Kangana might not be seen starring in the film as she wants her focus entirely to be on being a filmmaker for the film. "I want to keep my focus on the film as a filmmaker, entirely. For me, it's not a controversial subject. I see it as a story of love, faith and unity, and above everything, it's a story of divinity," she said.
COVID-19 Positive Mohena Kumari Singh Gets Teary-Eyed As She Shares Her Ordeal From The Hospital, Says 'It Affects You Mentally' (Watch Video)
Mohena Kumari Singh (Photo Credits: Instagram)
The news of television actress, Mohena Kumari Singh and few members of her family being tested positive for COVID-19, shook the TV fraternity. From the moment this piece of information broke online, fans and industry friends are worried about her and have been sending positive vibes to Mohena. The TV star and her family are currently quarantining at a hospital in Rishikesh with an aim to recover soon. However, Singh on June 6 shared a video on her Instagram handle where she can be seen sharing her ordeal as a coronavirus infected patient and the process seems tough. Mohena Kumari Singh Who Tested Positive for COVID-19 Thanks Fans for All the Prayers; Says 'People Out There Are Suffering Way More Than Us' (View Post). 
The video begins with the Yeh Rishta Kya Kehlata Hai actress expressing that she has come online to give an update to all concerned about her health. "This is my 6th day in the hospital at Rishikesh. It doesn't feel bad physically that much, but it affects you mentally more," she can be seen saying in the clip. Ahead, she breaks into tears and gets emotional. Mohena also shares how her mother-in-law had fallen ill, to which they thought it's just a flu, but after getting tested they got to know it's COVID-19. Mohena Kumari Singh of Yeh Rishta Kya Kehlata Hai Fame Tests Positive for COVID-19 Along With Her Husband, Suyesh Rawat and In Laws.
Check Out Mohena Kumari's Video Below:
Not only this, but the TV star also gave out a strong message to one and all with regards to getting tested early for COVID if you feel the symptoms. "It is very important to get yourself tested when you have a fever or are feeling sick. Don't sit at home and worry about it, but get yourself tested immediately," she said. In the clip, we can also see Gaurav Wadhav who joined Mohena for a small chat. Stay tuned!